When we returned to Japan in March, 2019 we began working with a team of church planters in order to see a witness for Christ raised up in the growing city of Kawasaki. The team was a mix of veterans and new first term missionaries who have a vision to plant two churches simultaneously from a previously planted mother church. With the number of churches and pastors in Japan being so small this is a good way to share resources and get more done!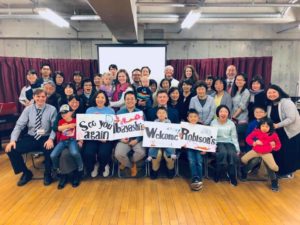 The above picture is of the Japan Baptist Fellowship missionary staff and the mother church, Den-En Grace Chapel from just after we arrived in 2019. JVenture is the group that we are partnering with on the field (we're still JEMS missionaries, but partnering with JVenture). The group is very evangelical, strategic, and affiliated with some of the people we've worked with during our time in Iwate. Good guys!
While serving at Den-En Grace Chapel (Cross Project mother church in Kawasaki), Jon was involved in the young people's group and taught college Sunday school, as well as preached ten sermons at four different churches. He (I?) was also able to help out with some repairs from hurricanes 15 and 19. 
However, after living in Kawasaki for a few months, it became abundantly clear that the school situation wasn't going to work for our family, due to bullying and isolation issues. We came to the conclusion that in order to protect our kids health and development, we would need to live in an area that had a more suitable school environment for each of them. While the process of leaving Kawasaki wasn't easy, we were able to move to an area where we are able to help with a church plant with other missionaries in the same mission group. Please continue to pray with us for God's continued blessing on our brothers and sisters on the Kawasaki team, and the ministry there as they open two new church plants in April, 2020. 
For more information on this project that we were involved with in 2019, please visit The Cross Project Official Website
So what's the plan for 2020 and beyond? Our support team's prayers, encouragement and financial support has overwhelmed us, as we successfully moved to a new town with much better school fits for our kids in February, 2020. After settling in we started working on a local JVenture church plant and mother church team, while continuing to brainstorm additional ways to reach Japan with the love of Jesus.

CLICK HERE to get to know our current ministry from 2020.
Thank you very much for your prayers and encouragement through e-mail, messaging and cards during the difficult time for our family in Kawasaki, and extra support to facilitate our move to West Tokyo and the beginning of another ministry!